◣Inspiration◥
💡 Renaissance
We extracted wine red and peacock blue to represent this special era. This leather cover is suitable for most A6/A5 notebooks, which can not only protect the notebook, but also contain the functions of storing card, bookmark and pen holder. High-quality leather can become brighter and brighter over time. I hope this book will bring you a wealth of inspiration from Renaissance.
◣Design◥
🍭 Color Contrasting Design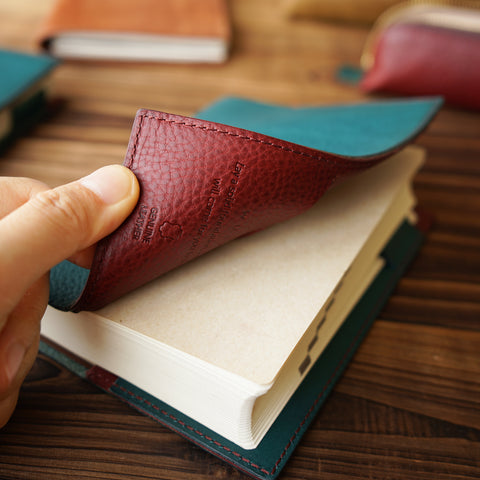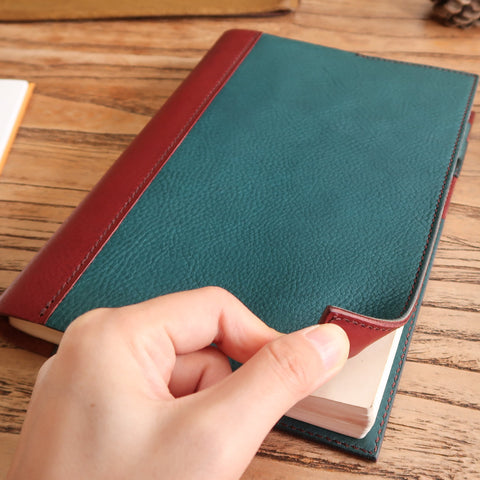 💳 Card Storage and 🔖 Bookmark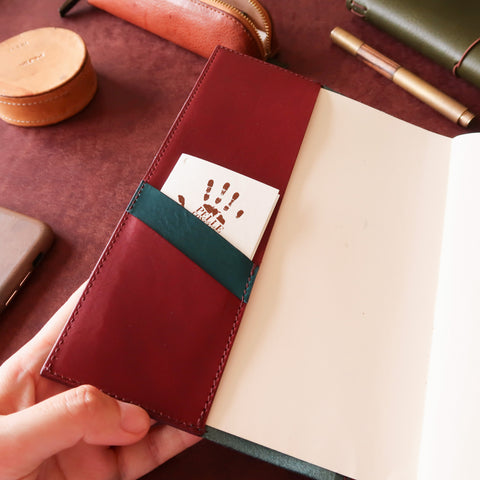 📃 Two Dimension Option
📦 Package Includes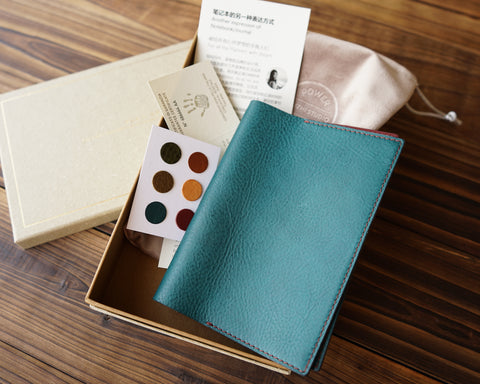 Leather cover(without notebook),  rubber band, leather certifacate,velvet bag...
◣Cover◥
📎 Leather - 🇮🇹Italian Minerva Box Vegetable Tanned Leather
📎 Minerva box leather - From the well-known factory Badalassi Carlo officially certified by the Italian Tuscany Vegetable Tanning Association, natural vegetable tanned cowhide without any harmful chemicals. After a long time of friction, the texture gradually fades, the color gradually deepens, and the leather surface becomes smooth and moist.
◣NOTICE◥
📎 100% genuine leather hides - Each piece of leather may vary slightly. Some will have more visible fat wrinkles, scars than others
📎 Lighting - The photos are taken in studio light and I tried to present the true color. But colors may appear differently due to differences in monitors and devices
◣Dimension◥
📎 General A5 6.6 x 8.8 x 0.7 inches
Suit for most of A5 size: HOBO Techo A5, Stalogy 365 A5, Standard Midori A5
📎 Thicker A5 6.6 x 8.8 x 1.0 inches
Suit for a thicker size of A5: Midori 1 day 1 page A5, HOBO 5 years A5
📎 General A6 6.4 x 4.8 x 0.7 inches
Suit for most of A6 size: HOBO Techo A6, Stalogy 365 A6, Standard Midori A6
📎 Thicker A6 6.4 x 4.8 x 1.0 inches
Suit for a thicker size of A6: Midori 1 day 1 page A6, HOBO 5 years A6
◣Additional Info◥
HOBO=Hobonichi
a planner notebook you can use as freely as you like and will adapt to the lifestyles of anyone using it.
Midori 1 day 1 page
This diary combines a block-type monthly schedule with 385 pages of free space.
◣Free Shipping◥
📫 We use YanWen and SF Express as our shipping carrier. We ship out the product within 3 days after your order is confirmed.